When flipping a house goes right......and when it goes wrong. PART 2....
so..... on the heels of a successful sale, I really felt what I needed was to keep working, keep going, keep busy. I was also a little buoyed by the rising trend of 'midcentury modern' and the sleeker styles associated with it - they have color, less ornamentation, and move the needle of popular taste a little toward what I would naturally gravitate to on my own. I set about looking for a classic ranch that had the trademark vaulted ceilings, large windows, and bold design features of a midcentury home, but that had been worn down in both appeal and value by time. It took about 30 seconds. I didn't think too much more about it, and we closed on New Year's Eve. When I say that I didn't think too much more about it, I mean I did that on purpose - I knew if I did, and was rational and sensible, I would not have bought it. I knew deep down that 'midcentury' was not high in demand in this area, and that what I found charming about the home would not be opinions shared by the majority of buyers. The opportunity to be creative, and to experiment with a new set of design tools, was what I latched onto and I closed the book on thinking further.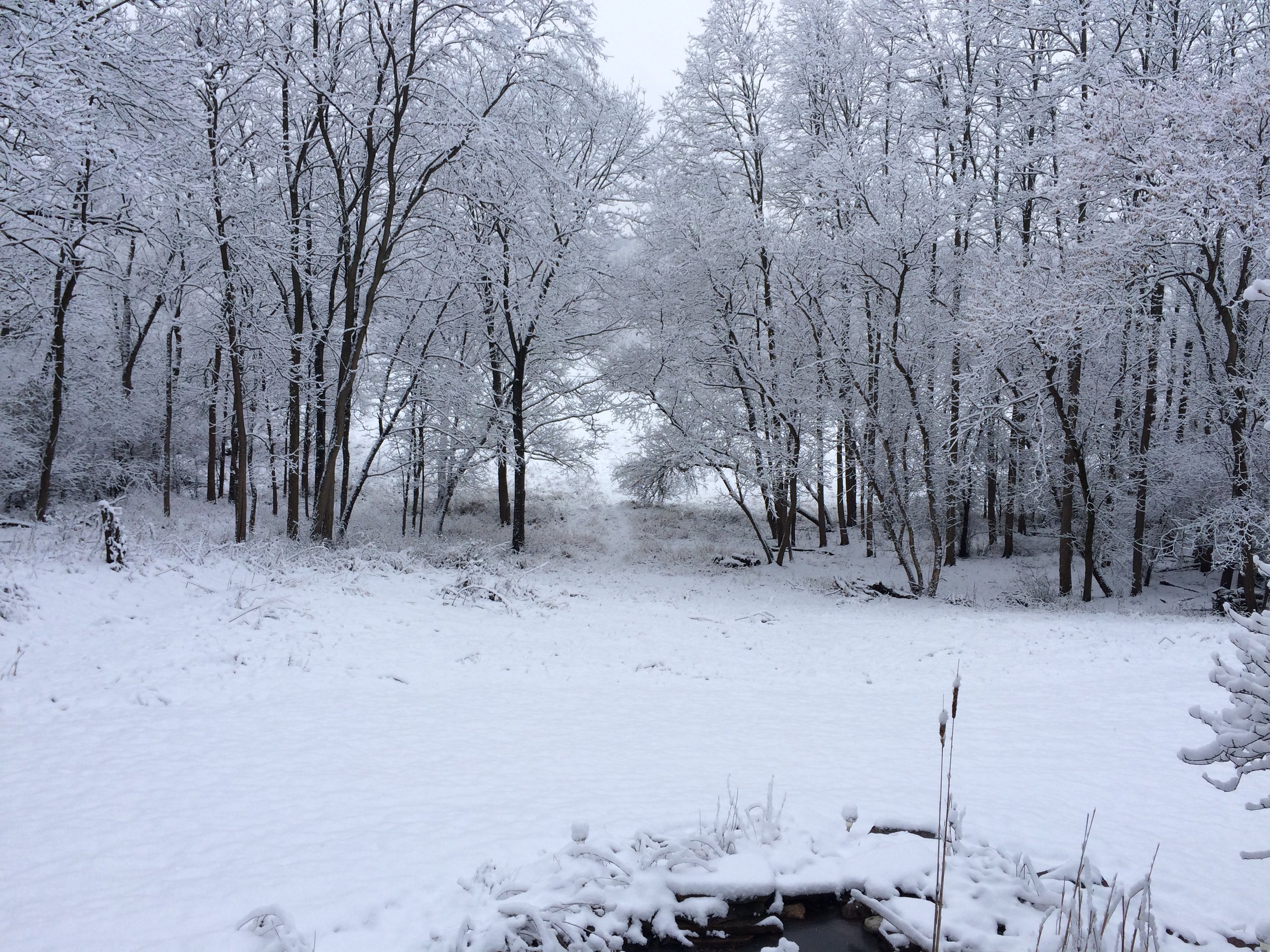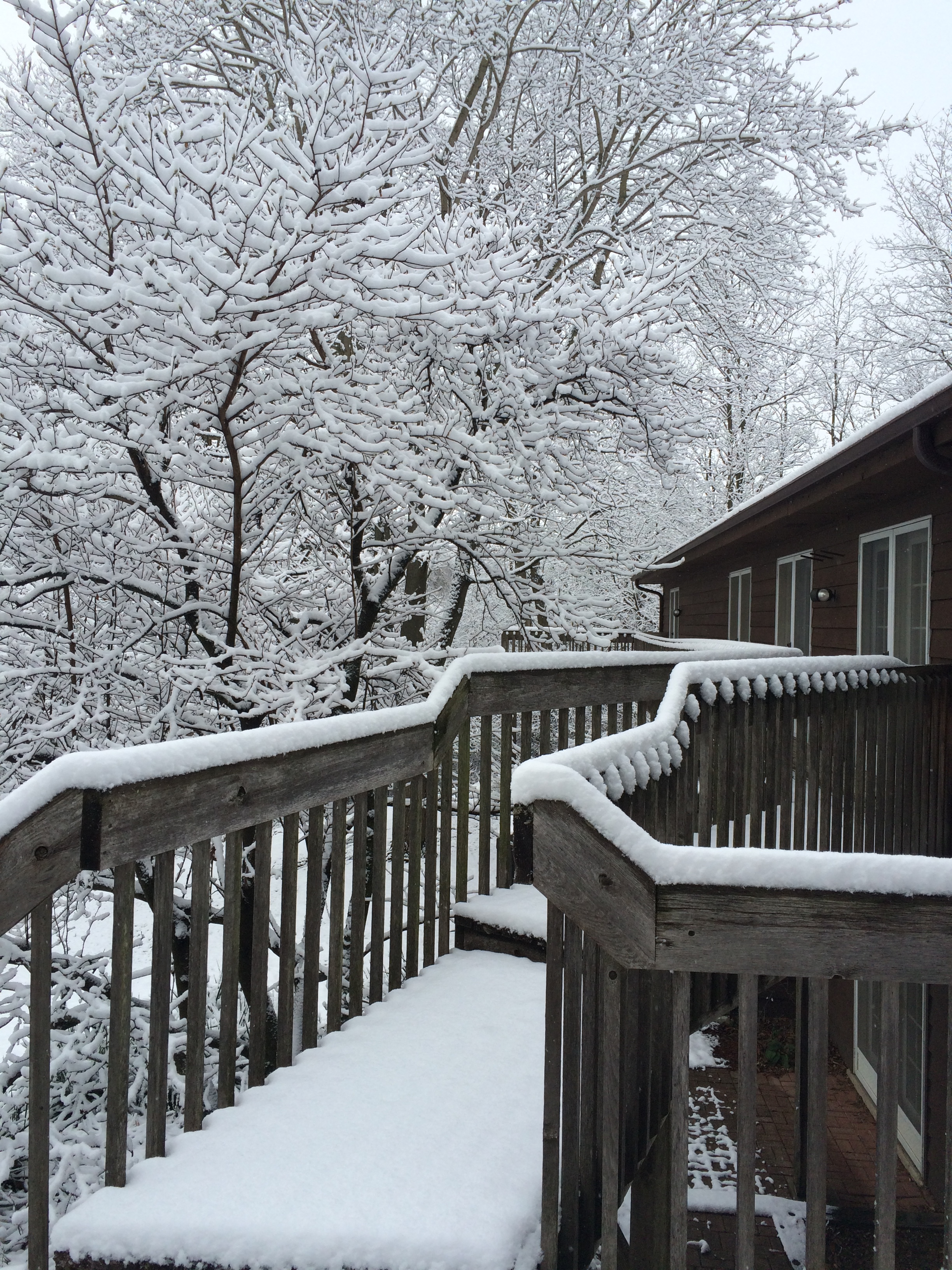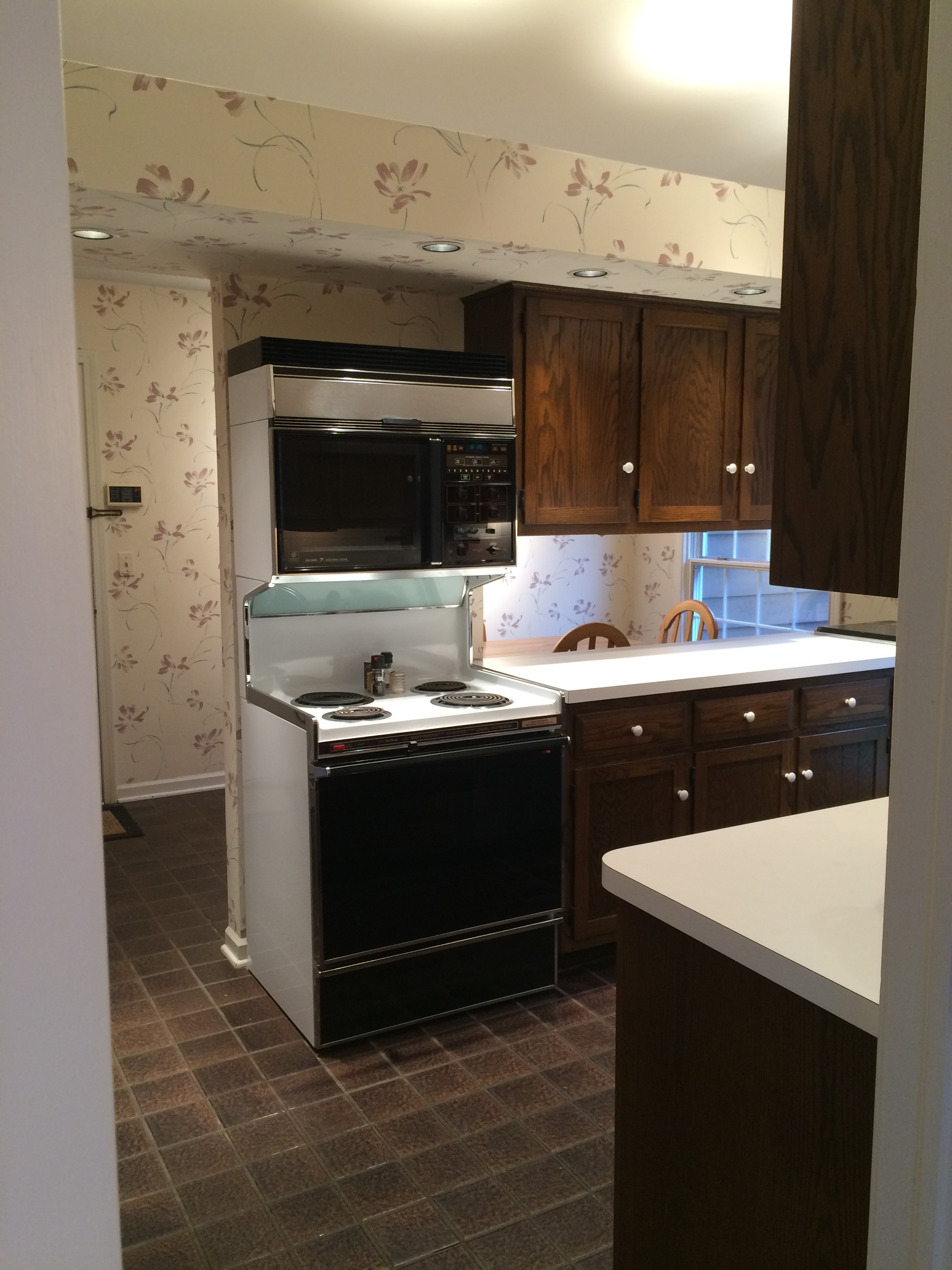 Obviously, the winter wonderland effect that I found when I first saw the house didn't hurt my first impressions at all. It's a lovely property, with the house at the top of a narrow 3 acre parcel that slopes down to a tiny creek amid oak trees in the front, and slopes down to the marshes surrounding a huge forest preserve in the back. Inside, the 80's were perfectly preserved, both in wallpaper and and amenities like a bathroom fully open to the master suite. That master suite was on the first floor, too, with its own deck and plenty of space for me to rework the closet and bath into a more acceptable layout. Next to it was another large bedroom and large hall bath, which I tried to talk myself into being enough to not deter families. I knew better than to buy a house with the dreaded '2 up and 2 down' bedroom combo. I had been fortunate to get out of a flip a couple years ago with that layout, and only by the sheer force of that house's 1920 charm was I able to sell it. People with kids HATE the 2 and 2. Personally, I think it's fantastic - my kids are old enough to not need to be physically next door to me when they are sleeping, and if you have teenagers, it's even better! Also, empty nesters would likely find the arrangement lovely, with lower bedrooms for guests and visiting kids, and the upstairs extra bedroom can be a den or hobby room, or even a home office. BUT, that's just me being ridiculous and inclusive and talking myself into the house again. I live in a traditionally styled and family-forward community, and the buyer pool is driven primarily by families with little kids. They demand at least 3 bedrooms on one level, always the upper level.
There were more conventional positives like.... OK STOP. There I go again, listing the things I LIKED, but that the market passes over without a second thought. So let's just name the other amenities, and you can judge for yourself: 2 separate 2-car garages, which I could easily join together via a mudroom that I would add on, a walk-out lower level with a sunken solarium, wet bar, exercise room, sauna (!!) and the ability to access the back yard through the large laundry room, should someone decide to trick out the backyard with a pool that needs an entry area and changing room. The landscaping was done with loving care by the previous owner, with flowering trees and even a waterfall pond with lily pads. The floor plan of the house lined up (mostly - I would discover later it wasn't PERFECTLY aligned) along the seam of the pitched roof, the bedrooms were spacious, and there were about 29384 closets. The previous owner had meticulously maintained the systems of the house, and it even came with floor plans so we didn't need to measure. Yay!
Cue the permits, sledgehammers, and wallpaper stripping:
That hole you see cut into the floor in the photos was the location of the original staircase, that had been closed off in favor of the VERY not-to-code spiral staircase next to the kitchen. Naturally, I figured that the spiral staircase was PERFECT for a new life in non-code-compliant locations, and we'll get to that in a little bit. First, we had to open up the kitchen, dismantle the bathrooms, and remove all the paneling and wallpaper. The wallpaper was, of course, the most difficult part. The mudroom had to be built, so that we could connect the garages to the house, and add better access to the backyard. The deck boards and railings came off, and the wall facing the backyard was opened up significantly to accommodate more windows. While the crew was tearing it up, I hit the stores for finishes....
Next up
Honestly, I LOVED picking these finishes. The kitchen and bath layouts, with their glossy cabinets and custom colors, the dark accents, the hex and penny tiles - all of it. LOVE LOVE LOVE. I hit up my favorite stone supply house and found unique counters I hadn't seen before, and I got to dig into my bag of tricks for finding good stuff at super cheap prices. PRO TIP: I seriously enjoy showing clients how to do this part of the job for far less than a designer will charge them.
Anyway, I felt so good about putting together a palette I hadn't seen before, and one that satisfied my need for bold color coordination and balanced textures. I would use the solid wood Pella windows again any time, they stained up beautifully. Those doors in the photo gallery are birch, and it took me 2 weeks to stain all 30 of them. 30. My daughter touched the middle of one, and I decided to leave the handprint as a memento of the project, not that I need help remembering hand-staining 30 wood doors....We only went over budget by about 10%, too!
The finished product turned out pretty okay, don't you think? I went for a midcentury vibe, with saturated colors and a general chrome accent. When I think of the house now, in my mind its a mix of navy blue, dark brown, azalea purple, and chrome. But in reality, the end result is that it didn't sell. After staging it with our own furniture - I literally hired movers to empty half of our house and my mom's house into it for 6 weeks - I rented it out. It's been a year now, and it's once again up for sale. I know there has to be a buyer out there for this house - the few agents that have been willing to come through have given it glowing reviews, but in real estate investing all that matters is the sale. If a buyer had asked me if they should have bought this house for themselves as a midcentury style opportunity, or even because they just liked ranches, I would have said yes all day long. If an investor had asked me to show this to them as a flip or even a place to live in for a short time and then sell for profit, I would have said 'No way, not a chance, just walk away. Let's go look at that farmhouse near the train station or the colonial with the maintenance-free yard and the gray siding...' For now I just wait. There are so many projects on the wish list, waiting for this home to sell, that I think I will just have to start writing about them in the meantime, even though I don't have a start date on the horizon..... To keep you occupied while you wait, here's what happened to that spiral staircase:
For lots more photos and data on this property, check out my official listing!
http://mredllc.com/smyl/myListing/?id=MDk3Mzk0Mzg6NjMxMDU